Action Verb Corpus (AVC)
The Action Verb Corpus comprises multimodal data of 46 episodes (recordings) conducted by 12 humans with in total 390 instances of simple actions — take, put, and push. Recorded are audio, video and motion data (hand and arm) while participants perform an action and describe what they do.
Publications
Details about the full data set and how the data was collected can be found in Stephanie Gross, Matthias Hirschmanner, Brigitte Krenn, Friedrich Neubarth, Michael Zillich: Action Verb Corpus. LREC 2018.
Authors
Matthias Hirschmanner
Michael Zillich
Licence
Sponsors
Human Language Understanding: Grounding Language Learning (HLU), Call 2014 – № 2287-N35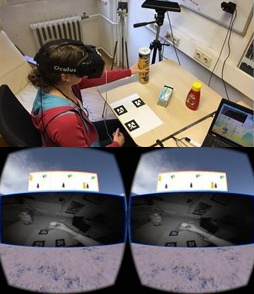 Key facts
Version
1.0

Release date
31 January 2018

Language
German

Modality
Multimodal

Licence
CC BY 4.0

Contact
Brigitte Krenn